His Majesty checks on soldiers' welfare
By James Kon & Haji Minor Absah
Photo by Information Department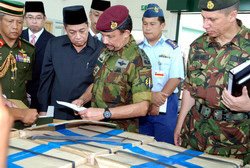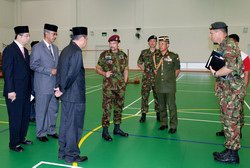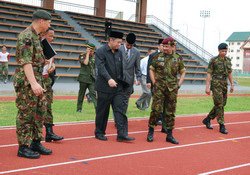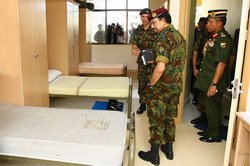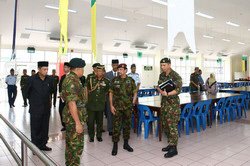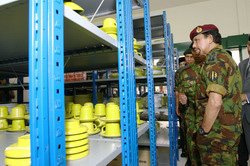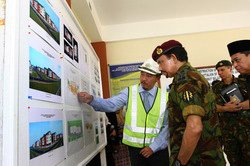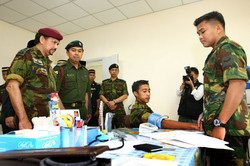 His Majesty the Sultan and Yang Di-Pertuan of Brunei Darussalam yesterday consented to visit the Royal Brunei Land Forces Third Battalion camp in Lumut, which showed the monarch's concern on the welfare of military personnel.
His Majesty, who is also the Minister of Defence and Supreme Commander of the Royal Brunei Armed Forces, arrived by helicopter and landed at the newly-constructed Third battalion Camp.
His Majesty was greeted upon arrival by Pehin Datu Singamanteri Colonel (Rtd) Dato Seri Paduka Awg Hj Mohammad Yasmin bin Haji Umar, Deputy Minister of Defence; Pehin Datu Lailaraja Major General Dato Paduka Seri Haji Awang Halbi bin Hj Md Yussof, Commander of Royal Brunei Armed Forces; and Dato Paduka Awg Hj Abd Majid bin Haji Mangarshah, Permanent Secretary at the Ministry of Defence.
His Majesty's visit began with the inspection of a guard of honour comprising 96 personnel of the Third Battalion of the Royal Brunei Land Forces under the command of Major Saiful Rizal bin Abdul Latif.
Before touring the new Third Battalion Camp headquarter, His Majesty heard a briefing delivered by Lt Colonel Haji Abdul Aziz bin Hj Abdul Rahman, Commanding Officer of the Third Battalion.
The monarch then took a closer look at the Company C barrack, which houses the administration office and living quarters of soldiers.
This was followed by a tour of the cookhouse, surau of the Lumut Camp and Quartermaster office. The RBLF Third Battalion was formed during the Royal Brunei Armed Forces' (RBAF) 33rd Anniversary on May 31, 1994.
The RBLF Third Battalion, stationed at Penanjong Garrison in Tutong District since its formation, was relocated to Lumut Camp on June 21, 2007.
The Supreme Commander also visited the sports complex that is equipped with facilities like a gym, swimming pool, hockey field, track and field with a grandstand, badminton courts among others.
His Majesty then went to the Married Quarters, which is still being built, Medical Health Centre and Officers' Mess.
During the visit to the Officers' Mess, His Majesty signed a royal parchment and went on to inspect the Battalion's parade consisting of 225 personnel, led by Major Haji Haszaimi bin Hj Bolhassan.
The equipment and gear carried by the soldiers came under the close scrutiny of His Majesty.
Five soldiers in the line-up were asked to unpack their gear to check their standard.
His Majesty consented to have light refreshments and mingled with senior officials of the Ministry of Defence and Royal Brunei Armed Forces before concluding the visit. - Borneo Bulletin (28th Mar 2008)