Sultan presents house keys
By Azlan Othman & Yusrin Junaidi
Photo by Information Department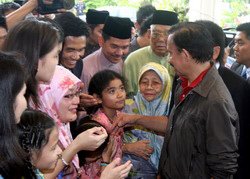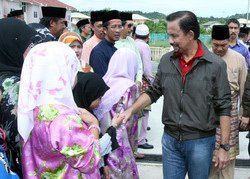 His Majesty the Sultan and Yang Di-Pertuan of Brunei Darussalam yesterday presented house keys to 112 recipients under the National Housing Scheme of Kg Rimba and Kg Mentiri Terrace Housing Scheme.
Following the handing over ceremony at Pehin Datu Seri Maharaja Secondary School in Mentiri, the monarch took a closer look at some of the new houses of the recipients and talked to village leaders such as Awg Hj Diwa bin Hj Rabaha of Kg Mentiri.
Awg Hj Diwa, who has been the village leader of Kg Mentiri for over 30 years, oversees the welfare of 1,960 residents in the village.
The caring monarch also made a stop at the house of 'Division II' recipient, Awg Hj Yusop Hj Mahmud, in Kg Perpindahan Lambak Kanan.
His Majesty also visited a number of business premises and industrial areas in Kg Mentiri, Lambak Kanan and Kg Tungku.
After visiting the newly opened Koperasi Ikatan Telok Mewah (ITM) Bhd Filling Station in Jalan Kota Batu, Kg Mentiri, the monarch made a stop at the Fire & Rescue Department near the Kg Lambak Kanan National Housing Scheme.
His Majesty also visited the residence of Awang Hj Kamis bin Hj Gadong, the village leader of Lambak Kanan National Housing Scheme Area II.
The monarch also toured Giant Hypermarket in Tasik Rimba and Hama Superstore in Kg Tungku, Gadong.
According to the superstore's general manager, Abdul Latip bin Isnin, Giant Hypermarket has received an overwhelming response from the public ever since it opened its doors on March 22.
He added that the superstore currently has about 300 staff members, mostly locals. - Borneo Bulletin (17th April 2008)