Dream come true for citizens
By Azlan Othman & Yusrin Junaidi
Photo by Information Department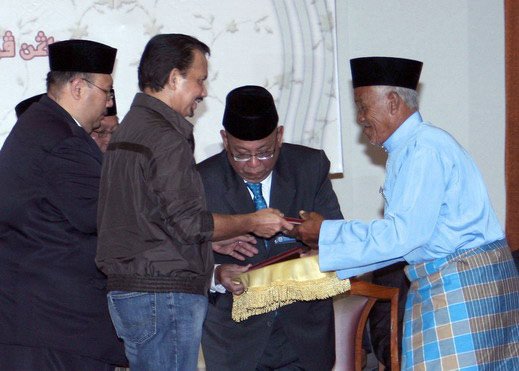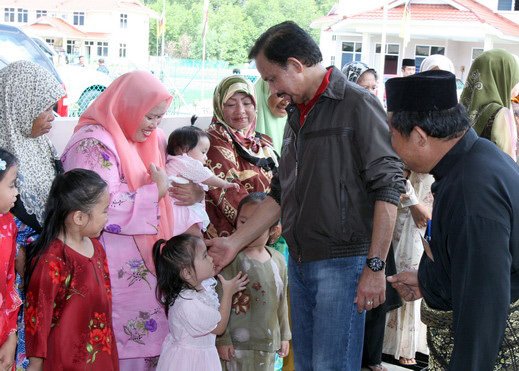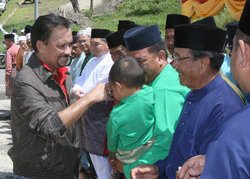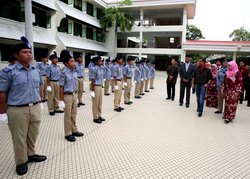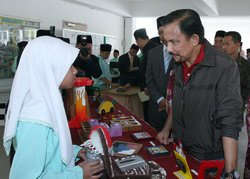 His Majesty the Sultan and Yang Di-Pertuan of Brunei Darussalam awarded 112 recipients with keys to houses at the National Housing Scheme in Kg Rimba and Kg Mentiri Terrace Housing Scheme. As of December last year, 6,056 houses and 1,694 land lots have been presented.
His Majesty also toured houses of successful recipients, met village leaders and visited industrial areas and hypermarkets in Kg Mentiri, Lambak Kanan and National Housing Scheme of Kg Rimba and in Kg Tungku.
His Majesty was greeted upon arrival at the Pehin Datu Seri Maharaja Secondary School in Mentiri by the Minister of Home Affairs, Pehin Orang Kaya Johan Pahlawan Dato Seri Setia Awg Hj Adanan; Minister of Development, Pehin Orang Kaya Hamzah Pahlawan Dato Seri Setia Awg Hj Abdullah; Brunei/Muara District Officer, Dato Paduka Hj Yussof and other senior government officials.
In his welcoming speech, Dato Paduka Hj Yussof said the awarding of house keys reflects the concern and caring attitude of the benevolent ruler towards the citizens in upgrading their living standards. Thus, the citizens are committed towards upholding their undivided loyalty to the monarch.
Out of the 112 recipients, 20 are Type-D house owners residing in the National Housing Scheme of Kg Rimba, while another 92 are the owners of terrace houses in Kg Mentiri. Each terrace house is 90 sq metres big and costs $42,000 for the middle unit and $45,000 for the corner unit.
Shortly after presenting the house keys, His Majesty toured the Mentiri secondary school, which was opened in 1994. Last year, the school achieved excellence in sports, hadrah, Quran reading, robotech competition and introduced BRIGHT projects, which stand for activities that would motivate students to become Brainy, Resourceful, Intelligent, Gifted, Hard-Working and Talented.
His Majesty also witnessed various activities of the army and police cadets, scout and taekwando members from the school and a Formula One car wind-tunnel demonstration.
The monarch later toured the house of Awg Esmit Hj Mat Yassin, a pensioner who has 13 family members, Pg Sharifuddin bin Pg Rendah, with four family members, and Awg Idaris @ Idris bin Ramli, also a pensioner with six dependents, residing at the Kg Mentiri Terrace Housing Scheme.
"I've been waiting for 24 years to get a house in the national housing scheme. Previously, I was staying with my son in Kampong Anggerek Desa," said Awang Idaris, while thanking His Majesty for consenting to award a terrace house.
Houses of Lt Col Awg Hj Md Doon bin Hj Mohamad, working at Berakas Camp, and Awg Hj Yusop Hj Mahmud, Special Duties Officer at the Ministry of Defence, and Division II officers at Lambak Kanan national housing scheme were also visited by the monarch.
The provision of housing lots under the national housing scheme for Division II officers was initiated in 1985 and has now been extended to Division III, IV and V. They were given a choice to choose either a land lot or house and those who opted for land lots could build their houses with government housing loans.
The houses of Dyg Radziah bte Hj Abd Hamid, a clerk at the Department of Electrical Services, and Hj Awg Damit Hj Khamis at the National Housing Scheme in Kg Rimba were also visited by His Majesty.
Hj Awang Damit said, "For 30 years I've been waiting for this, I thank the government of His Majesty for giving me a house."
His Majesty also visited Seri Pekatan Sdn Bhd (Seafood Crackers) in Lambak Kanan Barat industrial site, Aneka Ria stall in Rimba, Giant Hypermarket, Tasik Rimba and Hama Supermarket in Kg Tungku and ended his visits with a santap. - Borneo Bulletin (17th April 2008)