Crown Prince in Fujairah for official visit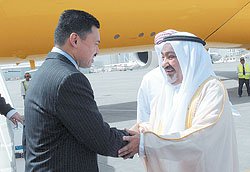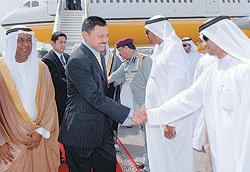 His Royal Highness Prince Hj Al-Muhtadee Billah, the Crown Prince and Senior Minister at the Prime Minister's Office Monday afternoon arrived for a visit to Fujairah, United Arab Emirates.
On arrival at the Fujairah International Airport, HRH the Crown Prince was welcomed by His Highness Sheikh Hamad bin Saif Al Sharqi, Deputy Ruler of Fujairah, and other dignitaries.
Accompanying HRH the Crown Prince is Prince Abdul Qawi.
Also present at the Fujairah airport was Dato Paduka Haji Adnan bin Hj Zainal, Ambassador of Brunei to the United Arab Emirates.
HRH the Crown Prince will also be competing in the World 8 Ball Championship 2008, which will be held in Fujairah from April 18-25.
Fujairah is one of the seven emirates (states) that make up the United Arab Emirates. It covers an area of 1150 square kilometres and has a total population of 150,000. - Borneo Bulletin (16th April 2008)