Crown Prince ends visit to Bahrain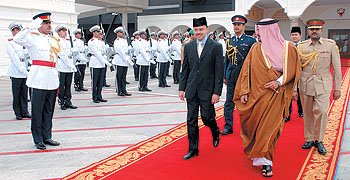 His Royal Highness Prince Hj Al-Muhtadee Billah, the Crown Prince and Senior Minister at the Prime Minister's Office left Manama yesterday afternoon at the end of a three-day visit to the Kingdom of Bahrain.
Before leaving the hotel, a prayer was recited by Pehin Khatib Awang Haji Hamidon.
Present at the Bahrain International Airport to bid farewell to HRH the Crown Prince was His Highness Sheikh Salman bin Hamad Khalifa, and other dignitaries.
HRH the Crown Prince received a static guard by the Bahrain Police Force.
Accompanying HRH the Crown Prince throughout the official visit was Prince Abdul Qawi.
Also present at the airport was the Charge d'Affaires of the Embassy of Brunei Darussalam to the Kingdom of Bahrain, Awg Haji Ahmad Haji Jumat.
The official visit of HRH the Crown Prince will further strengthen the existing friendly relationship between the two countries.
HRH the Crown Prince will continue with the official visit to Fujairah, United Arab Emirates. - Borneo Bulletin (15th April 2008)