Royalty at Maulud Nabi
By Azrol Azmi
Photo: Info Dept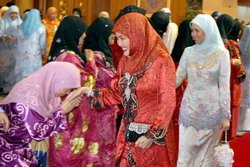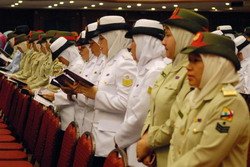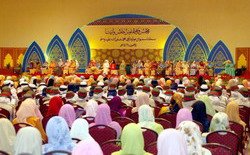 Her Majesty Raja Isteri Pengiran Anak Hajah Saleha and Her Royal Highness Pengiran Isteri Azrinaz Mazhar (picture above) yesterday consented to grace a Women's Special Gathering to commemorate the birthday anniversary of Prophet Muhammad (pbuh) held at the International Convention Centre in Berakas.
Her Majesty the Raja Isteri and HRH Pengiran Isteri were welcomed by the Special Gathering's Executive Committee members.
Their Royal Highnesses Pengiran Anak Isteri Pengiran Anak Hajah Zariah, Princess Hajah Rashidah Sa'adatul Bolkiah, Princess Hajah Majeedah Nuurul Bolkiah and Princess Hajah Masna also attended yesterday's event.
The ceremony began with the reading of the Al-Quran by Dayang Amal Nazirah, winner of Qari'ah Musabaqah Tilawah Al-Quran 2006 Youth Nationals.
The Co-Chairperson of the Organising Committee, Datin Hajah Masnah delivered welcoming remarks followed by a special talk by an invited speaker from Malaysia, Dr Robiah binti Kulop Hamzah.
The ceremony then proceeded with the presentation of the Anugerah Bakti Hijrah Khas Wanita by Her Majesty the Raja Isteri and HRH Pengiran Isteri to three recipients.
All three recipients received cash amounting to B$10,000 each, a certificate of appreciation, a memento and free medical treatment in a first class ward at any public hospital in the nation.
The event then proceeded with the recital of the Dikir Marhaban followed by a 'Doa Selamat' read by Datin Hajah Maznah binti Haji Mohammad. (Also see Royal Family at Maulud gathering) - Borneo Bulletin (8th April 2007)