His Majesty begins Siem Reap visit by visiting Cambodian Mine Action Centre
Photo: Info Dept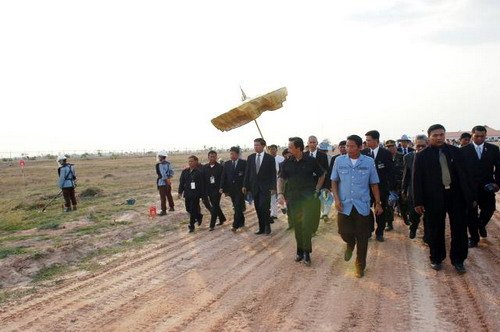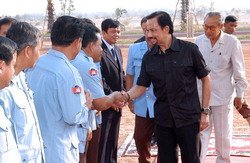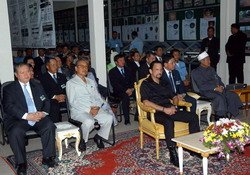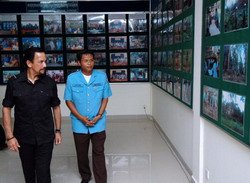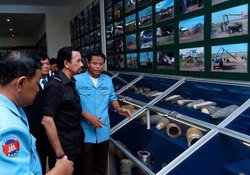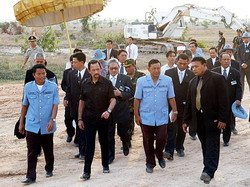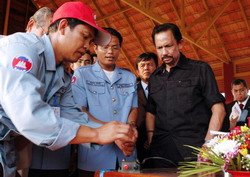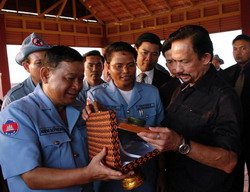 The first location to be visited by His Majesty in Siem Reap Province was the Cambodian Mine Action Centre, CMAC. The centre plays a vital role in saving many lives from hundreds of thousands of land mines which were buried during the Cambodian War.
His Majesty was greeted upon arrival at the CMAC by the Director General of the centre, General Khem Sophoan.
His Majesty was later briefed on the centre's main responsibility. Since its formation in 1992, CMAC has destroyed nearly a million land mines and cleared an area of more than 170 square kilometers of land mines.
The Monarch later viewed an exhibition on the centre's activities in destroying land mines. Cambodia hopes to clear its land from land mines by 2010.
His Majesty then consented to watch a demonstration on land mines detection using mine detection dogs and human skills.
At the end of the visit, His Majesty was invited to detonate a land mine from the distance of 500 meter using a remote control plane. (7th April 2007)