Closer ties with Cambodia
Photo: Info Dept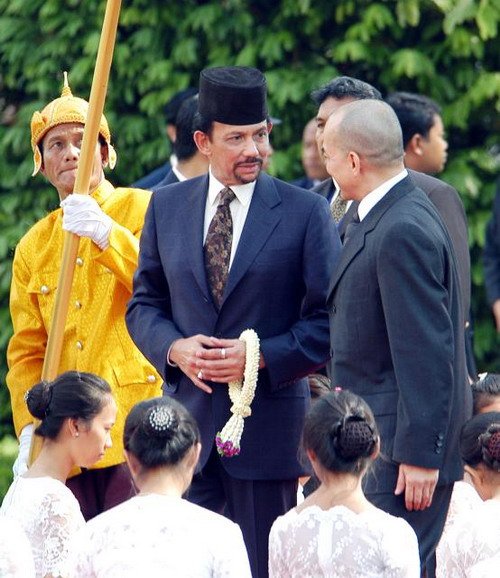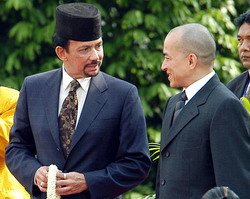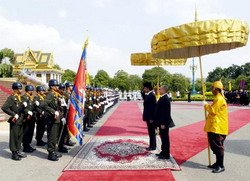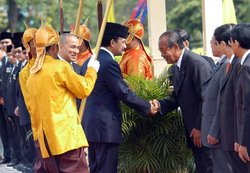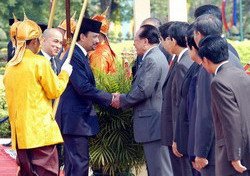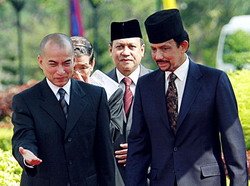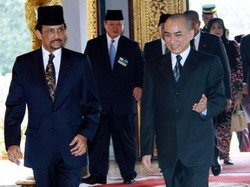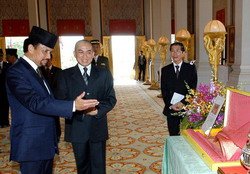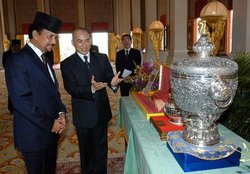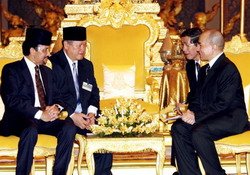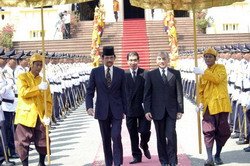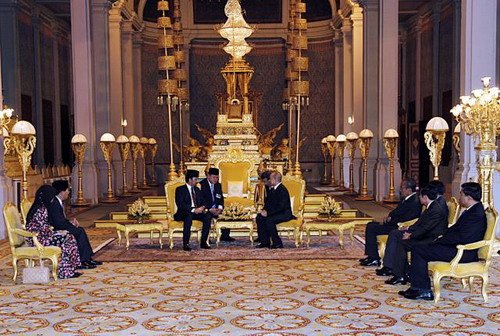 His Majesty the Sultan and Yang Di-Pertuan of Brunei Darussalam held a Royal Audience yesterday with His Majesty King Norodom Sihomani at the Throne Hall of the Royal Palace in Phnom Penh on the first day of His Majesty's three-day State Visit to Cambodia.
Their Majesties discussed bilateral issues of mutual interest.
King Sihomani conveyed his appreciation to His Majesty for the support and assistance given to Cambodia in various fields, RTB reported.
His Majesty extended an invitation to King Sihomani to visit Brunei Darussalam at a convenient time to the Cambodian king.
Their Majesties have previously met during the Asean Summit in Cambodia and during the 40th anniversary celebration of the King of Thailand's reign in Bangkok.
Earlier, His Majesty was greeted upon arrival at the palace by King Sihomani. Their Majesties received a royal guard of honour from the Cambodian Armed Forces, which was later inspected by His Majesty.
His Majesty was then introduced to Cambodia's state dignitaries by King Sihomani and likewise King Sihomani was introduced to His Majesty's delegation including Minister of Energy at the Prime Minister's Office, Pehin Dato Awg Haji Yahya and Second Minister of Foreign Affairs and Trade, Pehin Dato Awang Lim Jock Seng.
Before the Royal Audience, His Majesty and King Sihomani exchanged gifts.
After the royal audience, His Majesty went to the Independence Monument in the heart of Phnom Penh where His Majesty was presented with a wreath to be placed there.
The monument was built to commemorate the independence of the Kingdom of Cambodia.
In the afternoon, His Majesty consented to grant separate audiences to three state dignitaries of Cambodia at Moha Prasat Khemarin of the Royal Palace.
His Majesty received in audience the President of the Cambodian Senate, Chea Sim; President of the Cambodian National Hall, Heng Samrin; and Cambodian Prime Minister Hun Sen.
Diplomatic sources have told dpa that oil is on the agenda for talks during the visit. Cambodia has recently discussed importing crude oil from Brunei, the third largest producer in the region, and is expecting to begin its own oil production by 2010.
His Majesty is scheduled to view a military parade at Kambol, just outside the capital, today before travelling to the northern city of Siem Reap for a tour of the Angkor Wat temple complex and a visit to a de-mining project, dpa added.
Diplomatic relations between Brunei Darussalam and the Kingdom of Cambodia were established in 1992 on the basis of mutual respect for both bilateral and regional interests. - Borneo Bulletin (6th April 2007)