Prince leaves Hamburg after ASEM talks
By Azlan Othman
Photo: Info Dept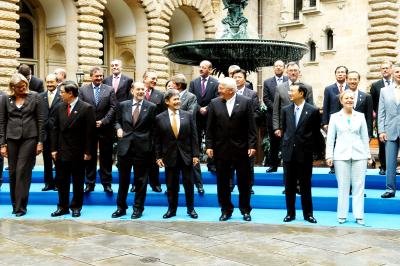 His Royal Highness Prince Mohamed Bolkiah, Minister of Foreign Affairs and Trade, and Her Royal Highness Pg Anak Isteri Pg Anak Hjh Zariah, left Hamburg yesterday evening after His Royal Highness attended the 8th Asia-Europe Meeting (ASEM) of Foreign Ministers.
His Royal Highness on Tuesday morning attended the Plenary Session of the ASEM Foreign Ministers Meeting.
Ministers exchanged views on energy and climate, and counter terrorism.
His Royal Highness later joined colleagues at a Working Lunch at which His Royal Highness led discussions on recent developments in Southeast Asia.
The ministers later endorsed the "Chairman's Statement".
The 43 nations at ASEM called for "cooperation on technologies that promote sustainable use of energy, the development and utilisation of renewable and alternative energy and measures to deal with the loss of biodiversity and deforestation", according to dpa quoting the draft document. - Borneo Bulletin (31st May 2007)