Prince attends ASEM meeting
Photo: Info Dept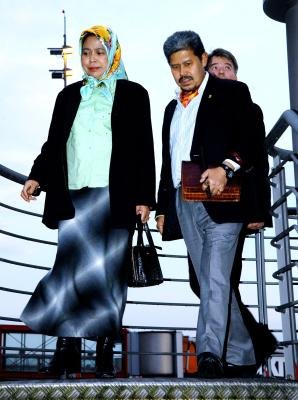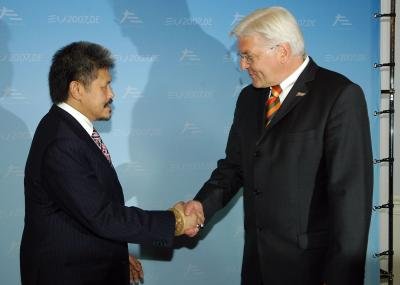 His Royal Highness Prince Mohamed Bolkiah, Minister of Foreign Affairs and Trade, and Her Royal Highness Pengiran Anak Isteri Pengiran Anak Hajah Zariah arrived in Hamburg Germany Sunday evening.
His Royal Highness Prince Mohamed Bolkiah is attending the 8th ASEM Foreign Ministers' Meeting, which began yesterday.
Upon arrival at the Hamburg airport, Their Royal Highnesses were welcomed by Mr Konrad Arz Von Straussenburg, Acting Head of Protocol, Ministry of Foreign Affairs of Germany.
Forty-six Asian and European foreign ministers from countries such as Japan, China, India, Mongolia, Pakistan, South Korea, the ten Asesan countries Indonesia, Malaysia, the Philippines, Singapore, Thailand, Brunei Darussalam, Vietnam, Myanmar, Laos and Cambodia, including the Secretary-General of Asean, as well as the 27 member states of the European Union and the European Commission are attending the meeting.
This will be the first time for Mongolia, Pakistan, Bulgaria, Romania and the Asean Secretariat to take part in the meeting after their inclusion as new ASEM partners in the ASEM Summit in Helsinki.
The European Union yesterday urged China to open its markets to help redress a "huge" trade surplus with the bloc and called on it to ratify a key rights covenant, Reuters reported.
EU External Relations Commissioner Benita Ferrero-Waldner said after meeting Chinese Foreign Minister Yang Jiechi she had also stressed the need for Beijing to do more on climate change.
Ferrero-Waldner said Yang had raised the issue of an EU arms embargo, while she had stressed the need for Beijing to ratify the International Covenant on Civil and Political Rights.
Yang said the climate change problem had not been created by developing countries and a balance had to be struck between countries' development and environmental protection. - Borneo Bulletin (29th May 2007)