King Mizan installed in glittery tradition
By Sonia K. & Azrol Azmi in Kuala Lumpur
Photo: Info Dept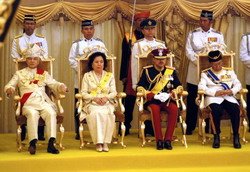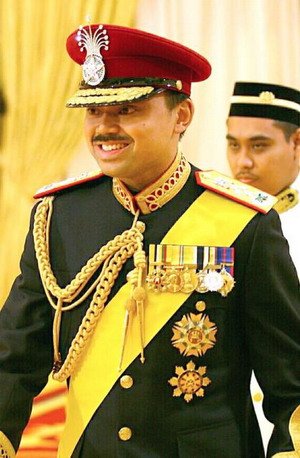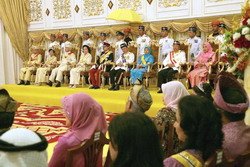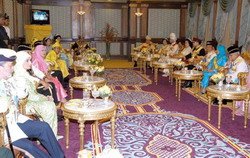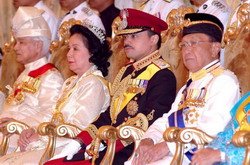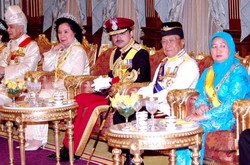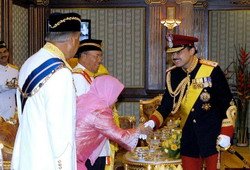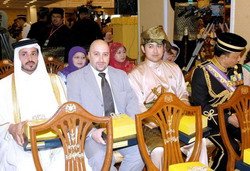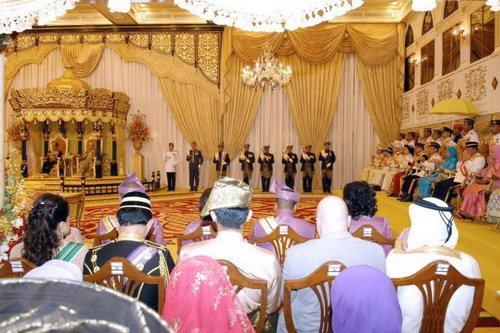 His Royal Highness Prince Hj Al-Muhtadee Billah, the Crown Prince of Brunei was among royalty and dignitaries present as Malaysia proclaimed its 13th Yang di-Pertuan Agong at the Istana Negara yesterday morning in a glittering ceremony watched by millions of Malaysians on 'live' television
Tuanku Mizan Zainal Abidin of oil-rich Terengganu state will rule for five years as King under Malaysia's unique system of rotating constitutional monarchy, one of its kind in the world, after installation ceremony in the Throne Room of the Istana Negara.
Accompanying HRH the Crown Prince at the installation ceremony was Prince Abdul Qawi.
Also present to witness the coronation were the Malay Rulers such as Sultan of Kedah, who is also the Deputy Yang di-Pertuan Agong, Yang Di-Pertuan Besar of Negeri
Sembilan, Sultan of Pahang, Sultan of Kelantan, Sultan of Perak, Regent of Terengganu and Sultan of Selangor. Johor was represented by the Tengku Mahkota of Johor, Tunku Ibrahim Ismail, and Perlis by the Raja Muda of Perlis, Tuanku Syed Faizzudin.
Others include members of the royal household, Prime Minister Datuk Seri Abdullah Ahmad Badawi, ministers, heads of state governments, the foreign diplomatic corps and local and foreign guests of Malaysia.
King Mizan, 45, in the official ceremonial attire called the 'Muskat' and Raja Permaisuri Agong (Queen) Tuanku Nur Zahirah, 33, entered the Throne Room led by the Tengku Farouk Tengku Jalil and bearers of the 'Cogan Alam' also known as the 'Mace of the Universe' and the 'Cogan Agama' known as the 'Mace of Religion'.
A copy of the Al-Quran was brought in by Datuk Penghulu Istiadat Datuk Wan Safiain Wan Hasan, who is also the Grand Chamberlain of Istana Negara, along with the government keris, the letter of proclamation and the pledge document.
Wearing black robes and jewel-encrusted Malay head-dress for the ceremony at the national palace, new King Mizan kissed the Holy al-Quran and the royal kris, a traditional dagger, before taking the oath of office.
"I will hereby rule Malaysia in a fair manner in line with the constitution and the law," the king said at the ceremony watched by Malaysia's royal and ruling elite.
The royal regalia was then brought in by Istana Negara officials led by Datuk Maharaja Lela Tengku Farouk Tengku Jalil and Datuk Abdul Rahman Mohd to the rendition of the drum-beat song "Palu-Palu Melayu" and the hour-long installation ceremony began.
Three shouts of "Daulat Tuanku" ('Long live the King') by those in attendance led by the Grand Chamberlain marked the peak of the installation.
A 21-gun salute and the rendition of Malaysia's National Anthem 'Negara-Ku' by the Royal Malaysia Police band then ensued. The installation ended with the Grand Chamberlain making a public announcement to the completion of the installation ceremony of His Majesty the 13th Yang di-Pertuan Agong, since the country gained independence from Britain in 1957.
King Mizan replaced Syed Sirajuddin Syed Putra Jamalullail, ruler of Perlis state. - Borneo Bulletin (27th April 2007)