Prince Mohamed leaves for Hamburg
By Azrol Azmi
Photo: Info Dept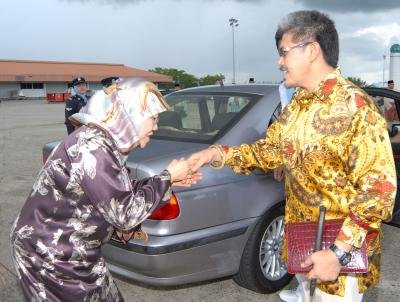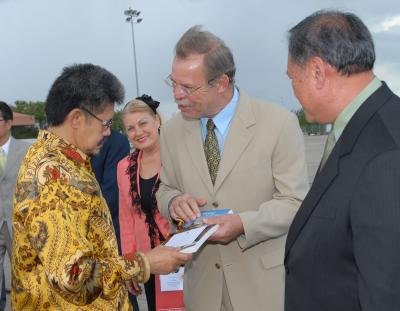 His Royal Highness Prince Mohamed Bolkiah, Minister of Foreign Affairs and Trade, and Her Royal Highness Pengiran Anak Isteri Pengiran Anak Hajah Zariah, yesterday left for Hamburg, Federal Republic of Germany, where His Royal Highness will attend the 8th Asia-Europe Foreign Ministers' Meeting scheduled to be held on May 28 and 29, 2007.
Present to bid farewell were HRH Princess Hajah Masna and Minister of Foreign Affairs II, Pehin Dato Seri Setia Lim Jock Seng and also the Mr Conrad Karl Cappell, the German Ambassador to Brunei Darussalam. The Foreign Ministers' Meeting is held bi-annually after being considered necessary and its establishment is part of the conclusion of ASEM 1.
In addition to pursuing the ASEM dialogue under the first and third pillars (political dialogue, cooperation in other areas), the Foreign Ministers Meeting is also responsible for the overall coordination of the ASEM process. The 8th ASEM Foreign Ministers' Meeting will be held in Town Hall of Hamburg, Germany with the expected participants of Foreign Ministers from Brunei as well as the rest of the Asean countries along with Asean Secretariat, foreign ministers of EU countries, the EU Commission and the EU Council Secretariat, China, Japan, India, South Korea, Pakistan and Mongolia.
Meanwhile in conjunction with this event, Asia-Europe Foundation (ASEF) will organise the 4th Journalists' Seminar.
The Asia-Europe Journalists' Seminar series serves to enhance the flow of information and exchange of perspectives among policy-makers and eminent senior journalists from Asia and Europe on strategic issues facing the two regions. - Borneo Bulletin (26th May 2007)