Tafsir Darussalam will glorify Islam
By Za'im Zaini
Photo: Info Dept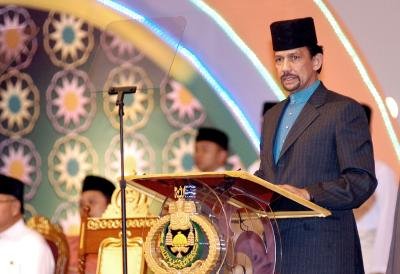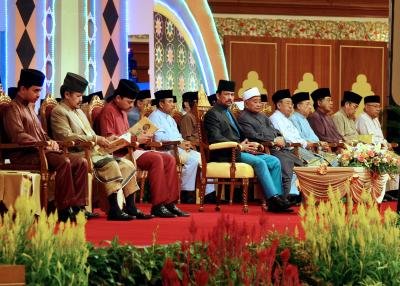 To spread the understanding of the contents of al-Quran, efforts are currently being made to arrange the "Tafsir Al-Quran" or the interpretation of the Quran called the "Tafsir Darussalam".
This was revealed by His Majesty the Sultan and Yang Di-Pertuan of Brunei Darussalam in a titah last night at the final of the National Al-Quran Reading Competition for Adults at the Plenary Hall of the ICC, Berakas.
His Majesty also consented to present prizes to the winners.
The monarch spoke on "Tafsir Darussalam" after making a reference to the role of Institute Tahfiz Al-Quran, which His Majesty described as one that imparts al-Quran knowledge, especially in the area of memorising and reciting the Quran in "Murattal".
It also adds to the function of spreading the understanding of the contents of the Quran.
His Majesty hoped that this effort will succeed and its success will consequently be the symbol of radiance of Islam in the country.
It will also add to the many references in understanding the contents of the Quran, as well as other reputable "Tafsir", His Majesty said.
Speaking on the competition and the Quran, His Majesty said that the objective of the Musabaqah (competition) is to improve the quality of the skill of al-Quran recital and that it needs to be supported continuously.
Reciting the Quran means preserving and respecting it. It brings a lot of benefits such as being blessed by Allah SWT.
"Isn't reading the Quran means that we are conversing with Allah, after all (contents of) the Quran are Allah's words," His Majesty said.
Anyone realising this will definitely not neglect the Quran. Reading it is one of the ways to get closer to Allah. Those who are close to Allah are those who receive Allah's will as well as Allah's blessings.
The monarch pointed out that every word that is read receives reward from Allah and also guidance.
The ruler also said, "Isn't prosperity, peace and harmony a blessing? All of these will not exist if there is no blessing. Allah's blessing adorns and saves our country and all of us."
Thus we cannot afford to lose these blessings and for this reason our educational system focuses greater effort on religious studies and the Quran.
This is understood and supported by every family. Many families have arranged their children to learn the Quran privately as well as learning it in school.
"This is a good sign of a nation that loves the Quran," His Majesty said.
His Majesty concluded the titah by highlighting a verse from 'Surah Taa Haa', which translates, "We have not sent down the Quran to thee to be (an occasion) for thy distress, But only as an admonition to those who fear Allah". - Borneo Bulletin (25th May 2007)