Crown Prince at National al-Quran Reading finals
By Za'im Zaini
Photo: Info Dept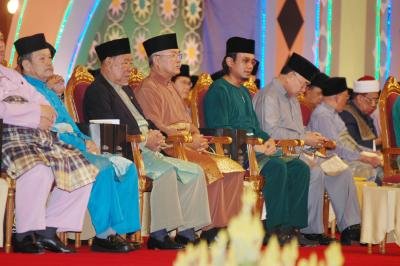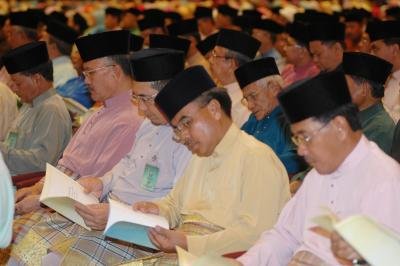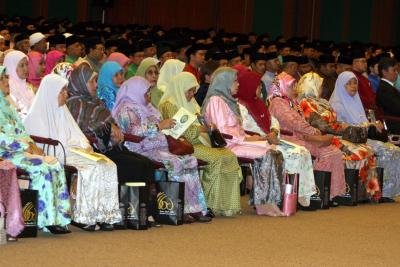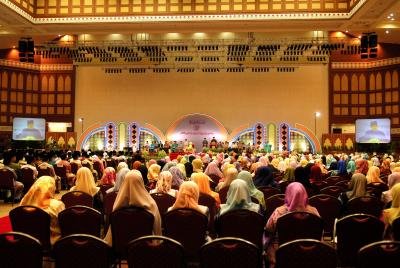 His Royal Highness Prince Haji Al-Muhtadee Billah, the Crown Prince and Senior Minister at the Prime Minister's Office, consented to attend the first night of the final of the National al-Quran Reading Competition Adult Division 2007 at the Plenary Hall, International Convention Centre yesterday.
Accompanying the Crown Prince was HRH Prince 'Abdul Malik.
Upon arrival, the Crown Prince was greeted by the Minister of Religious Affairs, Pehin Dato Dr Ustaz Hj Mohd Zain, who is also the chairman of the Executive Committee of the National al-Quran Reading Competition Adult Division 2007.
The event began with a mass recital of Surah al-Fatihah led by Pehin Datu Imam Dato Paduka Ustaz Hj Awg Abdul Hamid bin Bakal.
Earlier this year, various mosques and prayer halls across the country held competitions to select promising Qari (male Quran readers) and Qariah (female Quran readers) for the zone and district level events.
Those who scored at least 75 per cent in the zone and district level were eligible to enter the quarterfinals of the national competition.
Ninety-nine people were selected to compete in the quarterfinals this year compared to just 75 the previous year.
The minister said that the increase in the number of participants for this year's national competition was encouraging.
Out of the 26 semi-finalists, six advanced to the finals.
The three Qari finalists are Awang Zul Hafiz bin Awang Tengah, Awangku Adibul Amin bin Pengiran Hj Marjuki, Awang Hj Ismail bin Hj Sulaiman.
Meanwhile, the three Qariah finalists are Dayang Nurfaezah bte Hj Emran, Dayang Norezah bte Hj Md Deli and Dayang Nurul Akmalina bte Hj Yahya.
The six finalists will also be competing with two defending champions, Awang Muhammad Fahmie bin Hj Awang Metussin and Dayang Hjh Maidah bte Hj Abdul Rahman.
The Crown Prince launched the event after delivering a sabda.
There was also a tausyeh performance by the Kampong Tamoi Mosque Youths.
The theme of this year's competition, which is being organised by the Ministry of Religious Affairs, is "Memperkasa Iltizam Kehidupan Berugama".
The results will be announced tonight. - Borneo Bulletin (24th May 2007)