Happy faces at ITB's 16th Convocation
By Za'im Zaini & Azrol Azmi
Photo: Info Dept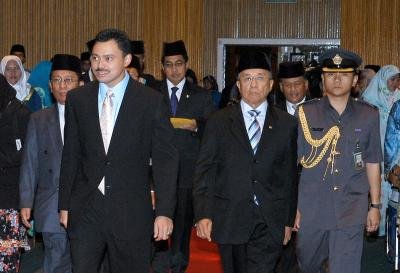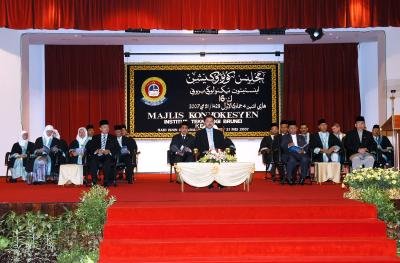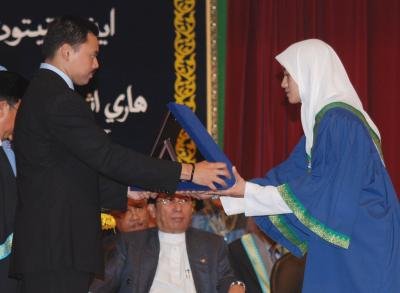 HRH Prince Haji Al-Muhtadee Billah, the Crown Prince and Senior Minister at the Prime Minister's Office, consented to attend the 16th Institute Technology Brunei (ITB) Convocation at the International Convention Centre, Berakas, yesterday.
Upon arrival, HRH the Crown Prince was greeted by Pehin Orang Kaya Seri Lela Dato Seri Setia Haji Abdul Rahman Dato Setia Haji Mohamed Taib, the Minister of Education.
The morning's event started with the recital of al-Quran, and was followed by a welcoming address by the Director of ITB, Dr Haji Kassim bin Haji Daud, who said graduates now prefer to work in the private sector rather than the public sector.
Dr Haji Kassim added that there was a 12 per cent increase in the number of graduates who have opted to work in the private sector. This figure was compared to the percentage of graduates working in the private sector from the 18th intake, which was 45 per cent, while 58 per cent of graduates from the 19th intake also entered the private sector.
He further added that this was an indicator of the increasing number of employers in the private sector who trust the standards of graduates from ITB.
He also said that the number of students for each intake is increasing each year, and thus in response, a task force to analyse the possibilities of increasing the capacity and ability of ITB in offering more new courses and accommodating new students has been formed.
As outcomes from initial meetings held late last year, the task force has successfully proposed for a new HND programme in the field of Internet and Multi-Media Development that would be introduced and offered for the 2007-2009 session that will begin in August this year.
In addition, the director of ITB said that two new HND programmes in Network Engineering and Electrical Power and Control Engineering are expected to be offered in January 2008, after all the necessary infrastructure and resources required for teaching and learning are ready.
The highlight of the event was the presentation of Higher National Diplomas to 230 graduates by HRH the Crown Prince.
Of the 230 HND graduates, 28 of them specialised in Computing & Information Systems, 17 majored in Electronic & Communication Engineering, 26 chose Civil Engineering as their field of study, 11 were in Construction Engineering and Management, 20 majored in Mechanical Engineering, 25 specialised in Business and Finance (Accounts), 26 were in Business and Finance (Banking), 30 majored in Business and Finance (Management), 23 specialised in Computing and 24 in Information Systems.
Furthermore, students who were singled out as the best in their fields, Chua Kok Vee @ Alan (Electronic & Communication Engineering), Norul Atma bin Haji Mursadi (Civil Engineering), Wong Kok Leong (Mechanical Engineering), Dk Amie Wardina binti Pg Md Yusof (Business & Finance), Nursufizah binti Haji Mohd Amin (Computing and Information Systems), Muhammad Rafiuddin bin Awang Haji Sabtu (Extra Activities), were given Best Student awards.
The students who received awards contributed by companies in the private sector were Muhammad Norairrol bin Hamid (Excellence in Business Studies - HSBC), Dk Amie Wardina binti Pg Mohd Yusof (Excellence in Business Studies - HSBC), Muhammad Norairrol bin Hamid (Best Accounting Student Award - Pricewaterhousecoopers), Ayatul Suhadah binti Haji Sijom (Best Banking Student award - BIBD), Dk Moniri binti Pengiran Mohiddin (Best Management Student - SCB).
The recipients for the Computing and Information System awards contributed by the private sector were Nursufizah binti Haji Mohd Amin (Best Student "Hairati Muhammad Memorial" Award - BITEX), Haliza binti Awang Kilali (Most Progressive Student - DST).
As for the awards given to Civil Engineering students, the recipients were Pg Haji Zulkiffli Pg Haji Bakar (Best Student in Project Management - Galfar), Dayang Norul Atma binti Haji Musadi (Most Progressive Student in Civil Engineering - Haji Adinin & Sons). The recipients receiving awards in Construction Engineering were Ak Md Saiful Azri bin Pg Haji Roslee (Best Student in Quantity Surveying - PUJA) and Suzana Hayati binti Haji Abd Gafur (Best Student in Construction Technology - Hanafi Konsaltan).
Chua Kok Vee @ Alan received an award in Electronics and Communication (Best Student in Electrical and Communication Engineering - Anati), and was also awarded the IET Merit Award - IET.
Recipients for the Mechanical Engineering awards contributed by the private sector included Wong Kok Leong (Brunei Shell Best Student in Mechanical Engineering Award - BSP), Suharni binti Haji Suboh (Excellence in Mechanical Engineering Studies - Maintenance Option TOTAL E&P Borneo BV), Dayang Zariah binti Haji Bachee (Excellence in Mechanical Engineering Studies - Design Option - Syarikat Kejruruteraan Sistematik), while the Best Student award in religious activities from Persatuan IQRA went to Muhammad Yusuf bin Haji Abd Majid. - Borneo Bulletin (22nd May 2007)