His Majesty leads Maulud procession
By Azlan Othman
Photo: Info Dept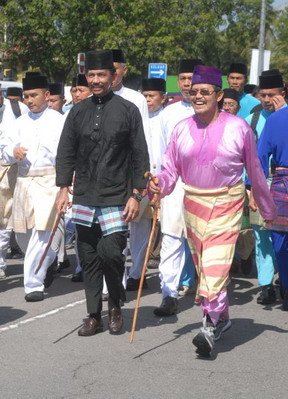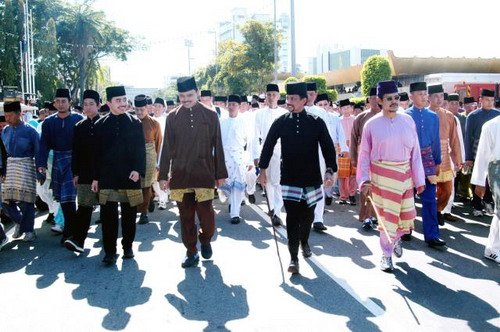 His Majesty the Sultan and Yang Di-Pertuan of Brunei Darussalam yesterday joined thousands of Muslims in a mass gathering and procession around the capital to mark the birthday anniversary of Prophet Muhammad (pbuh) which falls on every 12th Rabiul Awal in the Islamic calendar.
His Majesty was accompanied by His Royal Highness Prince Hj Al-Muhtadee Billah, the Crown Prince; His Royal Highness Prince Mohamed Bolkiah, His Royal Highness Prince Haji Sufri Bolkiah; His Royal Highness Prince Abdul Malik and His Royal Highness Prince Abdul Mateen.
The royal entourage was greeted on arrival at Taman Hj Sir Muda Omar Ali Saifuddien in the capital by the Minister of Religious Affairs, Pehin Dato Seri Utama Dr Ustaz Hj Awg Mohd Zain who is also the Chairman of the executive committee members and other executive committee members of the major Islamic events for 1428 Hijrah.
The function began with the mass recitation of 'Surah Al-Fatihah' led by the State Mufti followed by the welcoming remark by the Minister of Religious Affairs.
Pehin Dato Ustaz Hj Awg Mohd Zain highlighted that with this national rally in honour of the Prophet Muhammad (pbuh) would strengthen unity and enhance commitment of Muslims in carrying out a religious life and abide to the Islamic teachings by taking a lesson from the fighting spirit of Prophet Muhammad (pbuh) and Islamic followers in upholding the religion and uplift the status of Islam as a religion blessed by Allah.
His Majesty was then introduced to leaders of the participating teams in the procession. Over 25,000 participants from 157 teams representing ministries, departments, educational institutions, uniformed organisations and NGOs in the Brunei Muara District participated in the mass gathering.
The Monarch was first introduced to participants including those in wheelchairs from Pusat Ihsan of Kg Bengkurong followed by Scouts and uniformed personnel. A 'Dikir Marhaban' was presented by the 'Dikir' team from the Ministry of Religious Affairs followed by 21 cannon blasts following the 'Ya Habibi' recitation.
Prior to the commencement of the procession, a 'Doa Selamat' was read by the State Mufti. Then, Chief Syarie Judge led the recitation of 'Selawat' which resounded throughout the Taman.
His Majesty led the procession around Bandar Seri Begawan covering some 4.3 km. Joining His Majesty were other members of the royal family.
Meanwhile, similar processions were held in the other three districts where in Belait, it took place at the Municipal ground, near the Community Hall in Tutong and at the Community Hall Complex in Temburong (See page 8).
Some 10,000 participants representing 42 teams took part in the procession in Tutong, 8,000 representing 54 teams in Belait and 2,150 participants from 30 teams in Temburong. Meanwhile, a special gathering for women to mark the Prophet Muhammad's birthday will be held separately at a later date. The theme for this year's event reads "Memperkasa Iltizam Kehidupan Berugama". - Borneo Bulletin (1st April 2007)