Their Majesties grant separate audiences to Singapore's Commissioner of Police and wife
Photo: Info Dept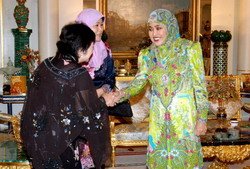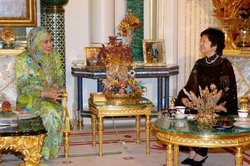 His Majesty Sultan Haji Hassanal Bolkiah Mu'izzaddin Waddaulah, the Sultan and Yang Di-Pertuan of Brunei consented to receive in audience the Police Commissioner of the Republic of Singapore.
His Majesty consented to receive Dato Seri Pahlawan Khoo Boon Hui at the Istana Nurul Iman. Accompanying the Singapore Police Commissioner at the audience were Brunei Police Commissioner, Pehin Dato Paduka Seri Zainuddin and Singapore High Commissioner to the country, His Excellency Joseph K.H. Koh. Also present was Permanent Secretary at the Prime Minister's Office, Dayang Hajah Salbiah binti Haji Sulaiman.
The Singapore Police Commissioner is in the country for the second bilateral meeting between the Royal Brunei Police Force and the Singapore Police Force.
Meanwhile, in another part of the Istana Nurul Iman, Her Majesty the Raja Isteri Pengiran Anak Hajah Saleha consented to receive in audience the wife of the Singapore Police Commissioner, Datin Betty Khoo.
During the audience, Her Majesty consented to receive a souvenir from Datin Betty Khoo, who was accompanied by the wife of Brunei Police Commissioner, Datin Suriati binti Haji Morneh and the wife of Singapore High Commissioner in the country, Madame Peifen P.H Chu.
Datin Betty Khoo is currently in the country accompanying her husband who is on a working visit. (19th April 2007)