Foreign ministers vow to uplift the needy
By P Marilyn
Photo: Info Dept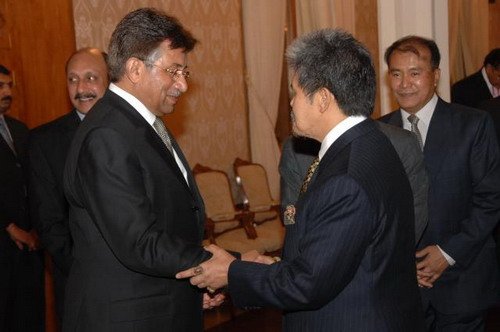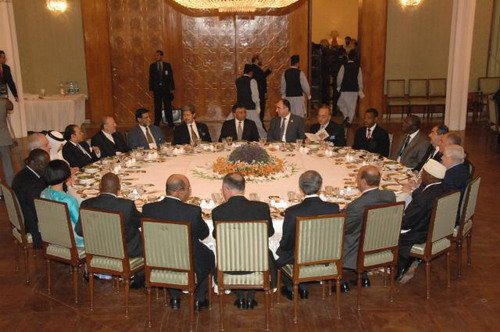 His Royal Highness Prince Mohamed Bolkiah, Brunei Darussalam's Minister of Foreign Affairs and Trade, Wednesday night attended a dinner hosted by the Prime Minister of the Islamic Republic of Pakistan, Shaukat Aziz.
His Royal Highness and Her Royal Highness Pengiran Anak Isteri Pengiran Anak Hajah Zariah left Pakistan yesterday morning after attending the 34th Islamic Conference of Foreign Ministers (ICFM).
Meanwhile, in the Islamabad Declaration issued after foreign ministers from Islamic nations met over three days in this Pakistani capital, the ministers vowed to continue OIC support for minority Muslim community in non-Muslim societies, Bernama reported.
On the economic front, which is gaining importance within OIC, the ministers agreed to pursue socio-economic development in Islamic countries through poverty eradication programmes, as well as increasing and promoting investments.
The ICFM also welcomed the setting up of a RM10 billion fund by the OIC to alleviate poverty in member states.
The Palestinians' plight did not feature prominently.
Over the weekend more than 40 people were killed in the turbulent Palestine after tensions flared between two rival factions - the Hamas and Fatah - but only a six-line paragraph touched on the half-a-century-old West Asian crisis, sounding more like a rhetoric.
In a nutshell, the document said it supported the creation of an independent and sovereign Palestinian state with Al-Quds as its capital and called for the implementation of the UN Security Council resolutions.
Nearly all the 57-member states of the Organisation of the Islamic Conference (OIC) attended the 34th Islamic Conference of Foreign Ministers (ICFM) but only Namibia expressed reservations on the document.
"The Palestinian issue is so crucial to the Muslim world and this (declaration) is not enough. It is not consistent with what is happening now in Palestine," it said.
"The OIC should appoint a ministerial committee to visit Palestine," said a Namibian delegate.
The declaration also did not say much on Iraq except calling for restoration of peace and stability in the war-torn oil-rich nation.
On Islam phobia, the foreign ministers, while condemning the growing trend and systematic discrimination against adherents of Islam, called the international community to stop incitement and hatred against Muslims.
Uganda will host the next ICFM. - Borneo Bulletin (18th May 2007)