Audience to M'sian delegation
By Azrol Azmi
Photo: Info Dept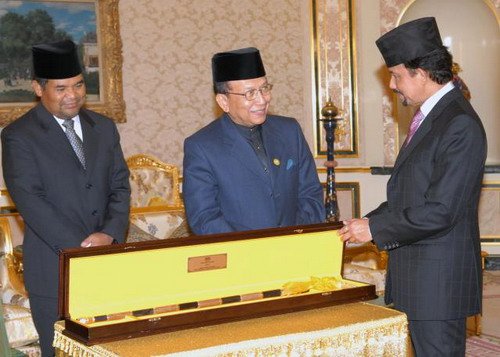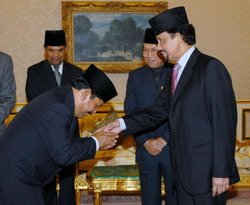 His Majesty the Sultan and Yang Di-Pertuan of Brunei Darussalam yesterday afternoon consented to grant an audience to a delegation from Malaysia headed by the Minister of Culture, Arts and Heritage, Dato Seri Utama Dr Rais bin Yatim. The audience ceremony was held at the Istana Nurul Iman.
During the audience, His Majesty consented to receive a message from the delegation.
The delegation from Malaysia comprised Tengku Laksamana Raja Dato' Tengku Sulaiman ibni Al-Marhum Sultan Ismail Nasirudin Shah; Tengku Farok Hussin bin Tengku Abdul Jalil Dato' Paduka Maharaja Lela from Istana Negara; Dato' Zakaria bin Sulong, Head of Protocol at the Ministry of Foreign Affairs; Dato' Awang Kechik bin Abdul Rahman, Head of Protocol at the Prime Minister's Office; and the High Commissioner of Malaysia to Brunei Darussalam, Datuk Ali bin Haji Abdullah.
Present at the audience ceremony were YAM Pengiran Lela Cheteria Sahibun Najabah Pengiran Anak Haji Abdul Aziz bin Pengiran Jaya Negara Pengiran Haji Abu Bakar; Pehin Orang Kaya Seri Utama Dato Seri Paduka Awang Haji Yahya bin Begawan Mudim Dato Paduka Haji Bakar, Minister of Energy in the Prime Minister's Office; YAM Pengiran Penggawa Laila Bentara Istiadat Diraja Dalam Istana Pengiran Haji Alauddin bin Pengiran Paduka Tuan Pengiran Haji Abu Bakar; and Pengiran Dato Paduka Haji Abu Bakar bin Pengiran Seri Indera Pengiran Haji Ismail, Permanent Secretary at the Prime Minister's Office. - Borneo Bulletin (13th April 2007)