Nation needs youths' support
By Za'im Zaini & Azrol Azmi
Photo: Info Dept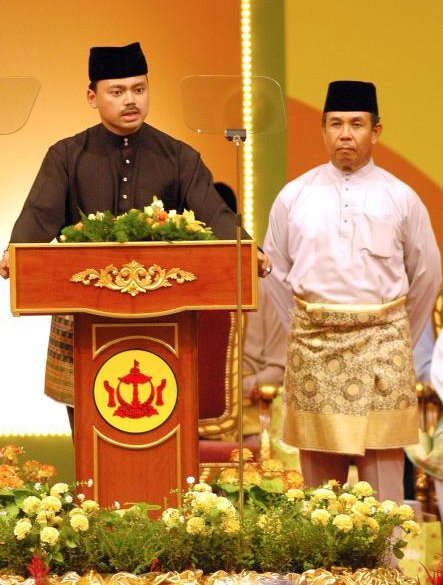 Calling youths as future leaders of the country, His Royal Highness Prince Hj Al-Muhtadee Billah, the Crown Prince and Senior Minister at the Prime Minister's Office yesterday saw their support to the nation instrumental in moving forward the national development.
His Royal Highness delivered a sabda at the opening ceremony of the 4th Asean Youth Musabaqah Tilawatil Al-Quran Competition last night at the International Convention Centre, Berakas.
"We realise that youths make up a large proportion of a nation's population and are a vital human resource. In this regard, the emphasis upon discipline amongst youths is appropriate in guiding and equipping them as a credible generation of successors. Without discipline, the nation's asset that is our youth force cannot be optimally utilised in moving forward national development," the Crown Prince said.
"We know that the more disciplined youths are, the easier it is to train them so that they may better contribute to the nation. With this eventuality in mind, the Government of His Majesty devotes considerable attention to the aspirations of the youth and has endeavoured to provide them with the knowledge and capabilities required to face social ills and challenges that progress will bring in the time to come."
HRH urged youths to be conscious of their responsibility to make the most of their time by undertaking useful activities and to play a role in making a change for the better in terms of religion, nationhood and the community.
Islam requires youths to be diligent and honest in pursuing their duties as well as loyal to the nation's leadership, race, and religion and to be fond of doing good, HRH added.
"In this regard, the role of today's youth should not be limited solely to developing their careers, but should also include contributing their thoughts, time and energy towards upholding a nation that is cultured, learned and well respected. Indeed, where the beauty of a language relies upon its politeness, so a nation's asset relies upon its youth," said the Crown Prince.
HRH believes that there are many more avenues for our youths to interact with youths of the region to generate goodwill for all, establish closer relations, cooperation and understanding, regardless of differences in language, race, culture and beliefs.
"Generally, knowledgeable youths are those who are of good character and are capable of performing their responsibilities with competence based upon their piety and strength of their faith. As such, they will be able to perform duties entrusted to them to the optimal best of their abilities.
"This is the potential that man possesses, through a nobility of character and strength of belief that leads towards goodness and away from transgressions.
"Youths are future leaders who need to equip themselves from the earliest beginnings. Indeed, the nation needs the support of youths who posses determination and positive attitudes, who equip themselves with knowledge, self-reliance and self-esteem.
"By being well versed in diverse fields of knowledge, youths will be able to overcome their challenges and will not easily succumb to negative influences around them.
"Youth interaction programmes of this nature should be enhanced through proper and focused planning in order to gain the most benefit in generating a spirit of cooperation and camaraderie, tolerance and goodwill, to safeguard harmony and order whilst avoiding conflict and misunderstanding," said His Royal Highness.
"Networking in specific fields based on this competition's objectives is something beneficial and should be encouraged. Even then, in any form of networking to be undertaken, youths in this country must adhere firmly to the spirit of tolerance and moderateness, which is given precedence in Islam," added the Crown Prince. - Borneo Bulletin (12th April 2007)